Our Commitment: Timely Support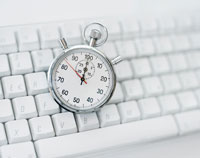 In today's hyper-paced world, the availability and reliability of IT infrastructures, systems and network connectivity is critical to business operations, where every minute of downtime and outage increases the chance of lost business and revenue.
TechQue is committed to quick response and timely, efficient and reliable support within the response time SLA, usually almost instantly.
Our qualified and experienced engineers put in efforts to familiarize with IT infrastructures and systems in the customer's organization to have in-depth knowledge and and skills to ensure that the problems and issues to be resolved in timely manner to minimize the impact to the organization.